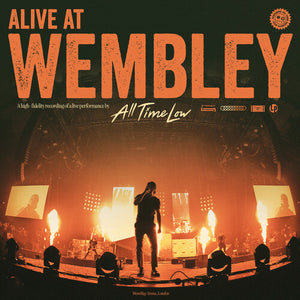 All Time Low * Alive At Wembley [IE, Ltd. Tangerine & Lemon Opaque Galaxy Vinyl Record RSD Black Friday]
Regular price $24.98 Sale
All Time Low * Alive At Wembley [IE, Ltd. Tangerine & Lemon Opaque Galaxy Vinyl Record RSD Black Friday]
1 per customer all other orders will be cancelled and charged 10% restocking fee.
Street Date: Nov. 24, 2023, In Store Only
Remaining albums will be available online Nov. 25, 2023.
Fueled by Ramen, 11/23/2023
Media: Mint, Tangerine & Lemon Opaque Galaxy Colored, Vinyl Record LP
Sleeve: Mint, RSD Exclusive, Factory Sealed
Live recording of All Time Low's concert at Wembley Stadium - 12" vinyl - Tangerine and Lemon Opaque Galaxy vinyl.
*All images are stock images unless otherwise indicated. Additional images available upon request. All items are from a retail environment. Most albums, even new, will show signs of shelf wear. Ships from the US. Same day shipping on most orders. Standard shipping and free shipping are sent USPS Media Mail and can take anywhere from 7 to 14 days to reach its destination. If your order is time sensitive, please select UPS or Priority mail, expedited shipping.*