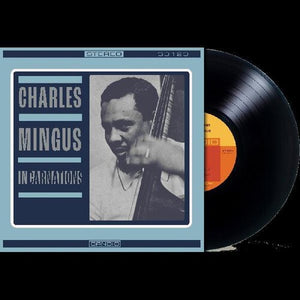 Charles Mingus * Incarnations [IE, Ltd. Vinyl Record RSD Black Friday]
Regular price $29.98 Sale
Charles Mingus * Incarnations [IE, Ltd. Vinyl Record RSD Black Friday]
1 per customer all other orders will be cancelled and charged 10% restocking fee.
Street Date: Nov. 24, 2023, In Store Only
Remaining albums will be available online Nov. 25, 2023.
Candid, 11/23/2023
Media: Mint, 180 Gram, Vinyl Record LP
Sleeve: Mint, RSD Exclusive, Factory Sealed
The music Charles Mingus and his group (including the legendary Eric Dolphy) recorded during his landmark 1960 sessions for Candid Records-the first in which he was given total creative freedom-produced three of the most revered jazz albums of the era. INCARNATIONS is the fourth great Mingus album to emerge from those historic sessions: a new masterpiece thoughtfully assembled from rare and unreleased material that stands proudly in the Mingus canon of masterworks. Presented in a heavyweight sleeve with period-perfect artwork, liner notes by Pitchfork and Rolling Stone contributor Hank Shteamer, audio restored and remastered by Bernie Grundman, and pressed on 180-gram vinyl, INCARNATIONS is the Mingus masterpiece nobody knew they were missing. Includes Newly Discovered Previously Unreleased Recording. Remastered & Vinyl Cut By Bernie Grundman. Pressed on 180gram Vinyl. Tracks Back On Vinyl For The First Time In Over 40 Years.
*All images are stock images unless otherwise indicated. Additional images available upon request. All items are from a retail environment. Most albums, even new, will show signs of shelf wear. Ships from the US. Same day shipping on most orders. Standard shipping and free shipping are sent USPS Media Mail and can take anywhere from 7 to 14 days to reach its destination. If your order is time sensitive, please select UPS or Priority mail, expedited shipping.*