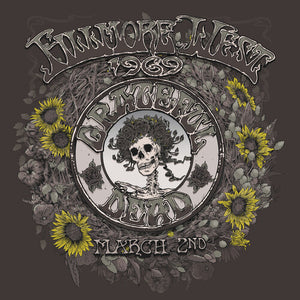 The Grateful Dead * Fillmore West, San Francisco, CA 3/2/1969 [IE, Ltd. Vinyl Record RSD Black Friday]
Regular price $124.98 Sale
The Grateful Dead * Fillmore West, San Francisco, CA 3/2/1969 [IE, Ltd. Vinyl Record RSD Black Friday]
1 per customer all other orders will be cancelled and charged 10% restocking fee.
Street Date: Nov. 24, 2023, In Store Only
Remaining albums will be available online Nov. 25, 2023.
Grateful Dead/WEA, 11/23/2023
Media: Mint, Vinyl Record 5 LP Box Set
Sleeve: Mint, RSD Exclusive, Factory Sealed
The fourth night of the famed Fillmore West run that produced the bulk of Live/Dead is an exceptional example-going back more than 54 years-as to why you never miss a Sunday show. Opening with what would later be known as the Live/Dead suite, 3/2/69 demonstrates the Dead had not only NOT run out of steam after three magnificent shows, in many ways they surpassed the previous nights' wildly powerful music. When your first set is the entire Live/Dead suite, what do you for a second set? Simple! You play for more than an hour and half, making sure everyone goes home way too late, but unimaginably happy.
*All images are stock images unless otherwise indicated. Additional images available upon request. All items are from a retail environment. Most albums, even new, will show signs of shelf wear. Ships from the US. Same day shipping on most orders. Standard shipping and free shipping are sent USPS Media Mail and can take anywhere from 7 to 14 days to reach its destination. If your order is time sensitive, please select UPS or Priority mail, expedited shipping.*