written by Rocky
Pre-orders don't stop coming! Here's a look at next week's records (available to pre-purchase now) along with a peek at other albums much later into this month and this year!
The Week of January 13th…
NOFX - "So Long And Thanks For All The Shoes" 25th Anniversary Edition, "Neapolitan" Vinyl
It's probably sacrilege to begin to compare NOFX to pop punk and the modern bands that belong to the genre, but those groups may not be half of what they are now without the influence of the infamous NOFX. Don't get it twisted, though: The prestigious hard rock band isn't just heavy guitars and fast drums, but also the occasional horns! Ska, I mean to say! NOFX has a history worth reading about, and like any good punk band, they're adamant on the topics and messages within their songs. The best albums can be listened to for their tones or deeply analyzed for their lyrics, "So Long And Thank For All The Shoes" fits just that! This 25th anniversary edition comes on "neapolitan" coloured vinyl to thoughtfully match the brown, white, and pink-striped color and is available for pre-order to assure you can get your own copy before it hits store shelves on the 13th.
Gaz Coombes - "Turn The Car Around" [Indie Exclusive] Yellow Vinyl
As a writer and music enthusiast, I aim to listen to and write about artists I have never heard before to do all the heavy lifting and summarizing for you, good reader. It's a collective adventure for us both! If you've heard  his name before, you may be familiar with Gaz Coombes and his work with Supergrass and The Jennifers. Coombes's solo music collection, specifically the singles premiering "Turn The Car Around," leans on slight funk and psych elements, surprisingly reminiscent of Radiohead or Tame Impala in terms of vocals and atmosphere, paired with dismal lyrics on modern living. This record will be one to play in your bedroom when you've stayed up a little too late thinking about life, for certain. The brand new album by Gaz Coombes will be released on the 13th, but it's ready for pre-order now on indie exclusive yellow vinyl.
Chicago - "Chicago IX: Chicago's Greatest Hits" [SYEOR 23 Exclusive] Picture Disc
Starting with an absolute explosion of sound, what is a Chicago collection of best hits without "25 or 6 to 4?" Chicago has their moments of brash rock and roll, but also love to show off their capabilities by shifting gears into ballads featuring their remarkable horn section and soulful vocals. They're an undeniable staple in classic rock collections, played all day every day on that one local radio station you might sometimes tune into… Chicago has long-been a force to be reckoned with, but don't just take my word for it: Take a chance in pre-ordering their picture disc before it hits shelves on the 13th.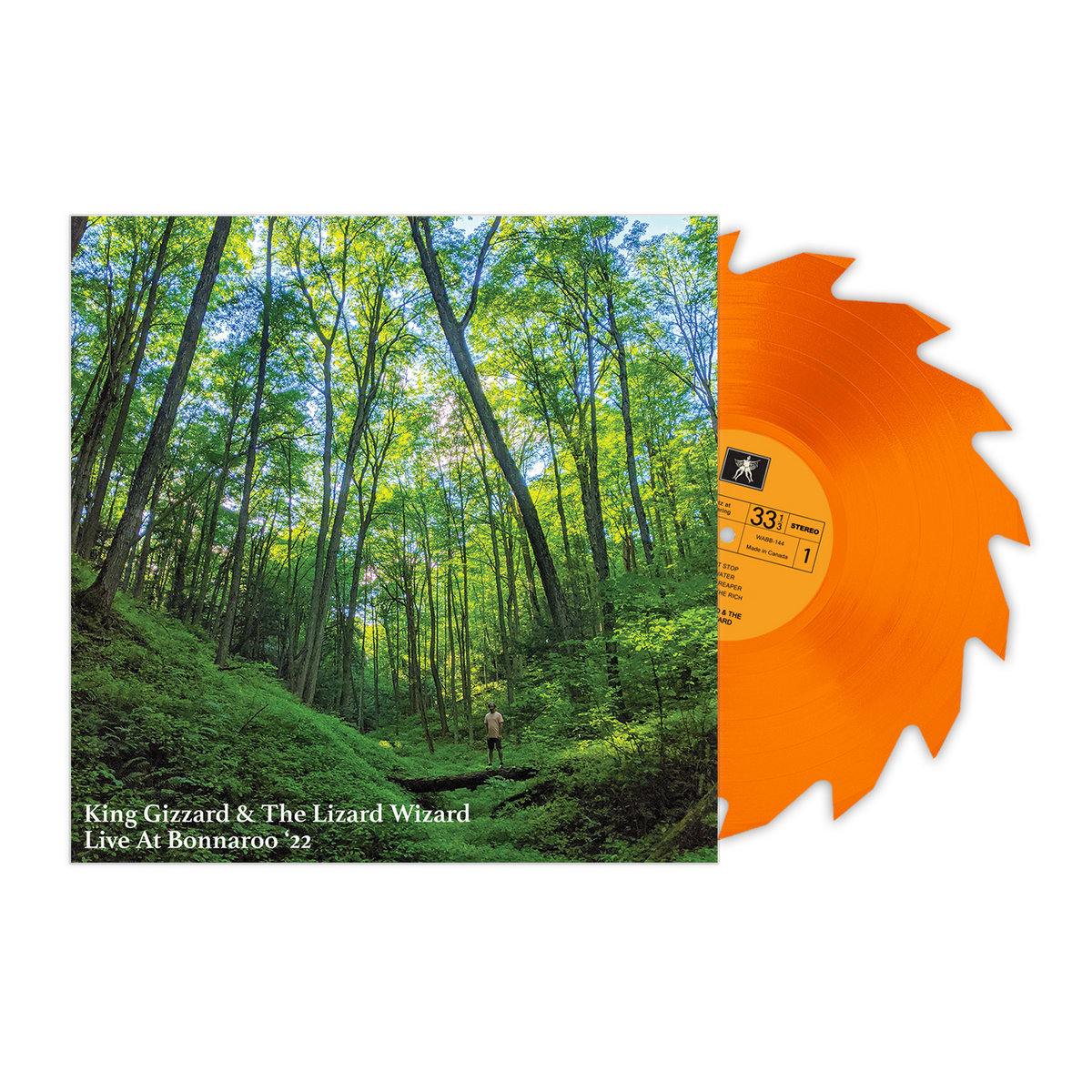 King Gizzard & The Lizard Wizard - "Live at Bonaroo '22" Orange "Buzzsaw" Die-cut Vinyl
This one's for my Gizzhead bootleg collectors, but if you're new here, I'll give you the run-down. Upon 2020, Australian psychedelic rock band King Gizzard and the Lizard Wizard launched their "bootlegger" project for independent record labels and record stores to make their own pressings and copies of the band's live performances to salvage a profit in the trying times that were the trenches of the COVID-19 pandemic. A huge success, King Gizzard continues to release live performances for folks to make their own money off of to help stimulate small businesses. So what does it mean when you buy a "bootleg" Gizzard record? Well, it means you're supporting your favourite indie record labels, showing loyal support to small stores, and getting to listen to that wacky Lizard band. If you're new to King Gizzard & The Lizard Wizard, a word of advice from a superfan: Every album is a different genre. There's sure to be something you like. "Live at Bonaroo '22'' showcases their performance at the annual Tennessee music festival, including tracks from favourite Gizz records including "Nonagon Infinity," "Infest The Rat's Nest," "Omnium Gatherum," and "Oddments." This record, available for pre-order, is from We Are Busy Bodies and will be on an astounding orange-coloured, buzzsaw-shaped wax.
Margo Price - Mumford & Sons - The Goose - Dayglow - Joesef - Bob's Burgers - Sarathy Korwar - feeble little horse - Obituary - Ernie Vincent - Kris Kristofferson - David Byrne - Bob Weir - Soul Grinder - Angels & Airwaves - Nervous Eaters - Circa Survive - Goo Goo Dolls - Kid Cudi
…and more!
The Week of January 20th…
Sylvan Esso - "No Rules Sandy" [Indie Exclusive] "Tiger's Eye" Coloured Vinyl
Sylvan Esso has come a long way since their 2014 self-titled debut record, though they stay true to their iconic minimal and folktronica dance tunes. If you're certain you've heard their name before, their first hit single, "Hey Mami" may offer a refresher. Amelia Meath and Nick Sanborn made a name for themselves as Sylvan Esso showcasing an incredibly unique sound that's both dance-able and meditation-able. …Is this painting a picture? Try pre-ordering their latest album that is getting its very own indie exclusive press on "tiger's eye" coloured vinyl.
The Ronettes - "Featuring Veronica" [RSD Essential] Opaque Red Vinyl
If you're in the Beatles and the Beach Boys-loving crowd, there's a guarantee you've heard the Ronettes! The Ronettes are a terrific group for your segue from 50's into 60's music with their definitive soul, R&B, and doo-wop styles from within the era. If you happen to be new to artists through the decades, you've surely at least heard the Ronettes and their many covers of Christmas songs with producer Phil Spector. The group has a ton of singles floating around, but "Featuring Veronica" is a terrific starting place in terms of compilation albums and is available for pre-order.
Mac Demarco - "Five Easy Hot Dogs"
While not strictly psychedelic, Mac Demarco's name lingers in the gray space between bedroom pop and minimal psych scenes. Singles and sneak peeks are not out yet for this album, but Mac writes, himself, that this record is a collection of instrumentals produced as he traveled around on tour. Take the vocals of Babe Rainbow and put 'em over your favourite lo-fi shoegaze artists' instrumentals aaand that's about as general of a description you can make referring to Demarco. I say this endearingly, of course: Mac's music sounds exactly what shade under an oak tree on a sunny day feels like. Plan a time to just chill out later this month by pre-ordering "Five Easy Hot Dogs."
We Are Scientists - Ladytron - Dave Rowntree - Wilco - Bryan Adams - Damon - Amnesty - John and Cody Carpenter - Boy Harsher - Ghost Woman - Sampa The Great - Cloud Nothings - John Cale - Katatonia - Dazy - Kyle Dixon & Michael Stein (Stranger Things) - Seether - Mynolia - Mood - Brothers of the Heart - Fastest Land Animal - The Murder Capital - Jerry Lee Lewis - The B-52's
…and more!
The Week of January 27th…
Sam Smith - "Gloria"
You've probably already heard the single off Sam Smith's upcoming record that's been out since September of last year, and if you have your doubts that you haven't, just a couple of seconds of the chorus of "Unholy" will make you say out loud, "Ah, yeah, I know this one." Smith's charting work has been known for fusing soul and pop into a singular genre, but based solely on the premiering track, their new album "Gloria" may showcase more silky vocals and heavier EDM elements. We're anticipating this record to absolutely pop off considering Sam Smith's successes throughout their entire career, so be sure to snag it while it's up for pre-order.
Ghost - "Meliora" [Indie Exclusive] Translucent Yellow Vinyl
Take an adventurous trip through a haunted house with Ghost's "Meliora!" Swedish metal band, Ghost, are known for their visual presence on stage, striking album covers, and iconic pop-ish sound. Chock-full of symbolism and conceptual lyrics, the band sounds adjacent to Blue Öyster Cult and maybe even Uncle Acid & the Deadbeats with a sense of charmed enchantment. Ghost isn't just some hard rock band–they put a real effort into gorgeous and captivating vocal harmonies. "Meliora" came out in 2015, but it is getting its name in the indie exclusive books with its very own translucent yellow pressing, and–you guessed it–it's ready for pre-order.
Curtis Mayfield - "Curtis" [SYEOR 23 Exclusive] Light Blue Vinyl
Horns, strings, vocals, lights, camera, action! Curtis Mayfield may be more widely known these days for his dazzlingly hit track, "Superfly," but his first record, "Curtis" is the perfect starting place for interested new fans. Across US and UK charts, the album was no real stranger between its debut and in recent years, as it was revisited by Rolling Stone magazine and placed as one of the 500 greatest albums of all time. "Curtis" checks all the boxes for a perfect definition of progressive soul and may be one of the best records to start a journey into funk. This album is not shy to tell it as it is, and it's an act to be admired and inspired by.  Check it out while it's available for pre-order on beautifully contrasting light blue vinyl.
5 Seconds of Summer - "5SOS5"
Oops, I have really fallen off the emo train to find that 5 Seconds of Summer have been busy at work all this time since the peak of pop-punk in the mid 2010's. Their fifth studio record, "5SOS5," was not shy to keep on keepin' on with familiar and reminiscent sunny radio pop themes in the recent year of 2022, perhaps to stay caught up with similar artists of our time. There have been quite a few variants of this album on vinyl, but it is being rereleased as a deluxe double LP later this month and is ready for pre-order on our site.
Tular Hubbard - The Arcs - White Reaper - Bob Dylan - JW Francis - The Cure - Bass Drum of Death - Samia - Pony Brandshaw - SG Lewis - Avril Lavigne - Illiterate Light - Ava Max - Green Day - Elvis Presley - Fucked Up - R. Ring - Nathan Hanson & Christ Bates - H.C. McEntire - Winspear - Smino - TOMORROW X TOGETHER - Stephen Sondheim and Sara Bareilles (Into The Woods 2022) - Curtis Mayfield 
…and more!
The Week of February 3rd…
Tycho - "Dive" Orange and Red Vinyl
TYCHO!! If you're looking for an album that has you feeling like you've become a cloud floating on a cool breeze, "Dive" will cut it for ya. Perhaps within the realms of being the origin of modern chillwave, I was surprised to see this album on the list of new releases, but nonetheless extremely excited to relive bittersweet memories from 2011 when the record initially came out. Hopefully your curiosity is piqued: "Dive" is an album that "tells a story without words" (Erik Burg, Beats Per Minute) and it's already on the site for pre-order on orange and red wax.
Shania Twain - "Queen of Me"
Maybe pop country isn't so bad. Dear reader, those who know me are aware that I listen to and enjoy pretty much every genre imaginable (yes, that includes harsh noise) with the one exception of new wave country… And I think Shania Twain's single, "Giddy Up," from her new record, "Queen of Me," might have just changed that. Twain may be the diamond in the rough in terms of gimmicky music and has genuinely paved roads for worthwhile southern pop (even though she's from Canada) since the 90's. You've probably heard "Man! I Feel Like a Woman!" at one point in your life, and it's prime to remember how hard it actually slaps. Get excited for Shania's newest record, "Queen of Me" that will be out early February and feel free to pre-order it ahead of time.
"Weird Al" Yankovic - "Weird: The Al Yankovic Story (Original Soundtrack)"
'Bit of trivia on your author here, but I grew up on "Weird Al" Yankovic. If you've only heard his name and never his music, well, his music may sound familiar as the vast majority of his songs are parodies of timeless radio hits. Some of his big songs–and ones found on this record–include "Another One Rides the Bus" ("Another One Bites the Dust"), "Eat It" ("Beat It"), and "Amish Paradise" ("Gangsta's Paradise"). Weird Al just had his satirical biopic release this past year and has been a thing of comedic rumor since 2010. It's not strictly a retelling of Yankovic's life so much as it is a jab at other mainstream biopics, but just as Al's purpose in his work, you'll get your laughs out of it. Anyways, this upcoming record (ready for pre-order) is the soundtrack to all of that. I'll be revisiting the film, myself, for the Doctor Demento lore.
James Brandon Lewis - Rikki Iligona - Ellie Goulding - Ockham's Blazer - Twiztid - Brit Taylor - Fania All Stars - Korn - Ghost - Now That's What I Call Music - Young Fathers - The Soul Searchers - Sunny War - The Go! Team - John Frusciante
…and more!
Whew! All of this to say there is so much more to find in our pre-order catalogue! Feel free to browse our site far into the future to ensure you get your favourites before they're swiped out from under your opportunities! Thanks for reading!
Peace, love, and anarchy.
Rocky