Whether you're already an avid record collector or not, there are some albums you just need to have on vinyl. Here's our list of the top 5 thrash metal albums every metal head should own.
These albums and more like them can be purchased from our store. Follow the links to purchase online from us and let us know if you're not seeing an album you want. Our highly trained employees who have sick taste in music are always happy to assist. 
1990's Rust In Peace truly cemented Megadeth as one of the best Thrash bands of all time.  With the addition of Marty Friendman and Nick Menza, Dave Mustaine and Dave Ellefson finally had a band that moved as one piece and created the perfect mix of Thrash and Prog Metal.  Rust In Peace has been praised as one of the best Thrash Metal albums of all time by Decibel and Kerrang! Magazines and was listed in 1001 Albums to Hear Before You Die.
Metallica - Ride The Lightning
Metallica's 1984 sophomore album, Ride The Lightning, saw them add to the sound of Kill 'Em All and push the Thrash genre forward.  While some tempos where speed up even more, tracks like For Whom The Bell Tolls were heavy, but with a more Rock tempo and Fade To Black featured the addition of Acoustic instruments to the mix.  In 2012, Ride The Lightning was certified 6x Platinum. (6 million in US sales)
Reign In Blood was released in 1986 and hit the Thrash scene like a hammer in between the eyes. Taking what they had done on their first two releases (Hell Awaits & Haunting The Chapel), Slayer along with Rick Rubin refined their sound, pumped up the production and released an album that helped influence an entire generation of bands.  Reign In Blood is 29 minutes of pure power and adrenaline.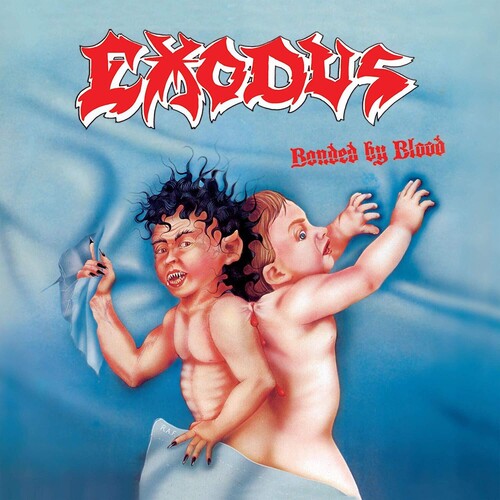 Bonded By Blood, the 1985 debut album from the Bay Area band Exodus, is almost a lost Thrash Metal classic.  Steeped in the same feel as Metallica's Kill 'Em All and Megadeth's Killing Is My Business, Bonded By Blood was plagued by a year delay in its release, causing it to slip into semi-obscurity to the public at large.  Loudwire magazine listed it as the "Best Thrash Metal Album NOT Released By The Big 4 (Anthrax, Megadeth, Metallica, Slayer)." 
Sepultura - Beneath The Remains
1989's Beneath The Remains is a Thrash Metal classic.  Hailing from Brazil, Sepultura shaped their sound and improved the production from the first two albums and released one of the best Thrash Metal albums of all time.  Tight, loud, crushing and unrelenting, Beneath The Remains would be the beginning of a 4 album run (Beneath The Remains, Arise, Chaos AD & Roots) that would see Sepultura rise to the top of the Thrash Metal ranks.
Compiled and composed by IG: the_home_for_wayward_records