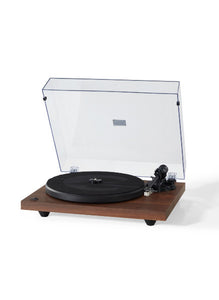 Crosley C6 Bluetooth Turntable * Walnut
Regular price $199.99 Sale
Restocking at the end of June!
Crosley C6 Bluetooth Turntable - Walnut (speakers sold separately) 
The Crosley C6B is a fully manual two-speed turntable created to give music fans a true analog experience. An audio-grade MDF plinth is wrapped in a stylish matte black veneer and since weight helps keep vibration at bay, a heavy steel platter provides a solid seat for your vinyl during play. Housed underneath the platter, a low vibration motor connected via belt spins records at both 33 1/3 and 45 RPMs - now easily switchable on the turntable plinth without requiring a belt adjustment.  Dial in the tracking force to 3.0 grams with the adjustable tonearm counterweight to match the specs of the AT3600 moving magnet cartridge.  The dampened cueing lever will gently drop the needle on the record to fill the room with the warm sound of vinyl. Connect speakers or your receiver to the RCA outputs on the back, or choose the easy Bluetooth option for a quick wireless connection.  Use the built-in preamp (or use your own) and you're ready to jam.  The C6 is a lot of turntable for the money!
Unit (L x W x H) = 16.5 x 14.25 x 5
Unit Weight (lbs) = 12.5